Reagent Grade (Recombinant Human Serum Albumin, HyWill)
Human serum albumin (HSA) is the most abundant protein in human plasma. It can transport hormones, lipids, and other molecules and maintain osmotic pressure.
OsrHSA, a recombinant human serum albumin expressed by rice endosperm platform without any animal or human-derived components, provides an excellent solution for various immunoassay experiments. It can also be used as the stabilizer of diagnostic enzymes, antigen or antibody, sample diluent or blocking reagent, protein quantitative standard, and plasma matrix control, etc.
Compared to FBS, pHSA and BSA, OsrHSA  has excellent batch consistency, and can avoid the interference of human or animal-derived IgG, hormones, and other unknown substances.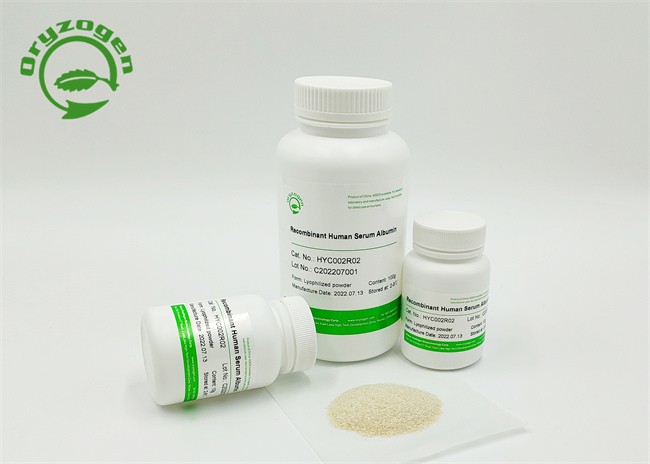 【Source】:Rice Grain (Oryza Sativa)
【Catalog   Number】:HYC002R02
【Formulation】:It is lyophilized with octanoate and inorganic salt.
【Package size】:1g, 10g, 100g, 1000g
【Physical Appearance】:Off-white to yellow lyophilized powder 
【Purity】:More than 90% as determined by SDS-PAGE 
online consultation
Applications:
Stabilizer of diagnostic enzymes, antigen, antibody

Sample diluent or blocking reagent

Protein quantitative standard

plasma matrix control
Storage and Handling:
Stored at temperatures 2-8℃ for at least 48 months. It is recommended to reconstitute the lyophilized OsrHSA with PBS. Dissolved sterile OsrHSA can be stored at 4°C for 3-6 months. Use as soon as possible after opening. Please avoid freeze-thaw cycles.
FOR RESEARCH, LABORATORY AND MANUFACTURE USE ONLY. NOT INTENDED FOR DIRECT USE ON HUMANS.