Recombinant Human Epidermal Growth Factor (OsrhEGF)
Human epidermal growth factor, also known as EGF, is a 6kD protein with 53 amino acid residues and three intramolecular disulfide bonds. By binding with high affinity to epidermal growth factor receptor (EGFR) on the cell surface, EGF results in a variety of biochemical changes within the cell, rising intracellular calcium levels, increasing glycolysis, protein synthesis and regulating the gene expression, including the gene for EGFR that ultimately lead to DNA synthesis and cell proliferation.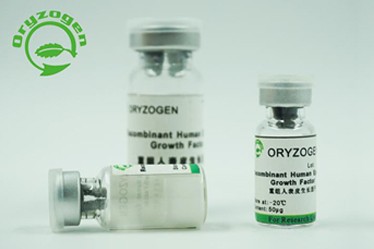 【Source】:Rice   Grain (Oryza Sativa)
【Catalog   Number】:HYC020M01
【Formulation】:It is lyophilized with Mannitol as the stabilizer.
【Package size】:50ug, 1mg, 10mg
【Endotoxin】:Less than 5EU/mg
【Physical Appearance】:White lyophilized powder 
【Purity】:More than 95% as determined by SDS-PAGE. 
online consultation
Biological Activity: The ED50 is ≤1ng/ml determined by a cell proliferation assay using Balb/c 3T3 cell, corresponding to a specific activity of ≥1×106 Units/mg.
Applications: Mammalian cell culture
Cosmetic and beauty care
Storage and Handling:
Stored at temperatures -20℃ for at least 24 months. It is recommended to reconstitute the lyophilized OsrhEGF in sterile water. Use as soon as possible after opening. Please avoid freeze-thaw cycles.
FOR RESEARCH, LABORATORY AND MANUFACTURE USE ONLY. NOT INTENDED FOR DIRECT USE ON HUMANS.
1.SDS-PAGE                                                             2. Bioactivity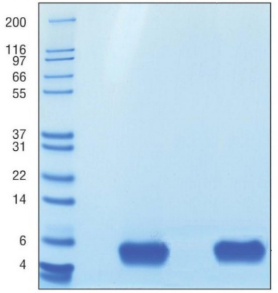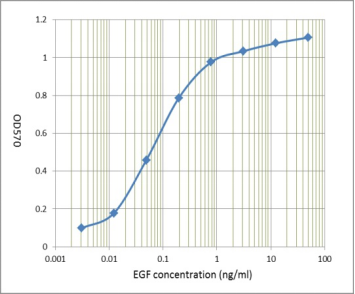 Two different batches OsrhEGF resolved with SDS-PAGE.                    Cell proliferation assay was using Balb/C 3T3 mouse
Both of these two batches purity are higher than 95%.                     embryonic fibroblast cells. The bioactivity of OsrhEGF
                                                                                                        is more than 1 x 106 Units/mg.