Recombinant Human Vascular Endothelial Growth Factor (OsrhVEGF)
Vascular endothelial growth factor (VEGF), also known as vascular permeability factor (VPF), is a highly specific vascular endothelial cell growth-promoting factor, which can promote the increase of vascular permeability, the degeneration of extracellular matrix, the migration of vascular endothelial cells, the proliferation and formation of blood vessels. VEGF has also been confirmed to have a chemotactic effect on monocytes and osteoblasts.
The Recombinant Human Vascular Endothelial Growth Factor (OsrhVEGF) was expressed in the rice endosperm platform, which has been demonstrated that has the same physical and chemical with the native VEGF.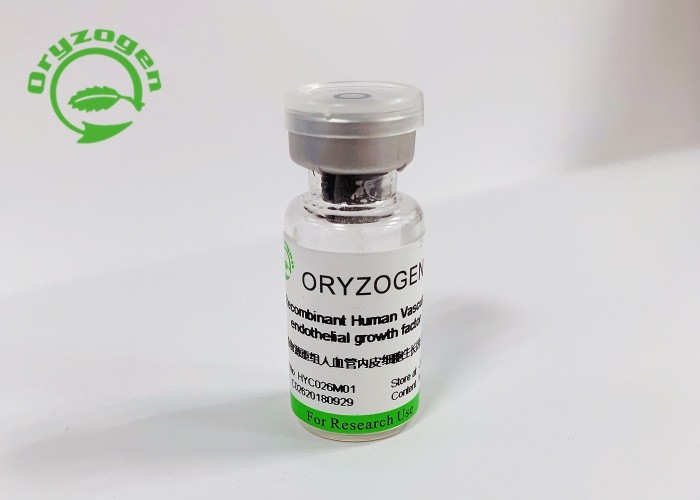 【Source】:Rice Grain (Oryza Sativa)
【Catalog   Number】:HYC026M01
【Formulation】:It is lyophilized with trehalose and OsrHSA as the stabilizers.
【Package size】:50ug; 1mg
【Endotoxin】:Less than 5EU/mg
【Physical Appearance】:White lyophilized powder 
【Purity】:More than 95% as determined by SDS-PAGE. 
online consultation
Biological Activity: The ED50 is ≤1ng/ml determined by a cell proliferation assay using HUVECs, corresponding to a specific activity of ≥1×105 Units/mg.
Applications: Mammalian cell culture
Cosmetic and beauty care
Storage and Handling:
Stored at temperatures -20℃ for at least 12 months. It is recommended to reconstitute the lyophilized OsrhVEGF in sterile water. Use as soon as possible after opening. Please avoid freeze-thaw cycles.
FOR RESEARCH, LABORATORY AND MANUFACTURE USE ONLY. NOT INTENDED FOR DIRECT USE ON HUMANS.