Recombinant Human Fibronectin(OsrhFN)
Fibronectin (FN) is a particularly important and well-studied component of the extracellular matrix, and is known to play a key role in cell adhesion, growth, spreading, migration, differentiation and proliferation. Fn is a 220 kDa glycoprotein composed of 2 subunits bound via a disulfide bond. Currently, the Fn is purified from the plasma, which however is limited by the availability of supply. The the recombinant human fibronectin (OsrhFN) was expressed in the rice endosperm platform, which is animal component free and has high purity, and has been demonstrated has the same physical and chemical with the plasma derived Fn. OsrhFN provides a safety solution to replace the plasma derived FN.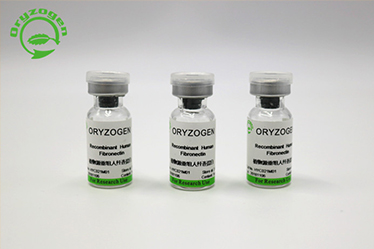 【Source】:Rice   Grain (Oryza Sativa)
【Catalog   Number】:HYC021M01
【Formulation】:It is purified from rice endosperm.
【Package size】:1mg
【Endotoxin】:Less than 0.5EU/ug
【Physical Appearance】:White lyophilized powder 
【Purity】:More than 95% as determined by SDS-PAGE. 
online consultation
Applications:
OsrhFN is generally used in the concentration range of 1-5 micrograms per cm2 of growth surface for attachment or at 5-50 micrograms per ml as a media additive.
(Optimal working dilutions must be determined by end user.)
Storage and Handling:
Stored at temperatures -20℃ for at least 12 months. For the lyophilized OsrhFN, it is recommended to reconstitute in the sterile water or PBS with 1mg/ml concentration. The reconstituted OsrhFN liquid can be made in other aqueous buffer. Upon reconstitution OsrhFN should be stored below -20℃. Use as soon as possible after opening. Please avoid freeze-thaw cycles.
1.SDS-PAGE 2.SEC-HPLC

In the SDS-PAGE and SEC-HPLC purity analysis, the purity of OsrhFN is more than 95%.
3.Comparison with commercial Fn in the cell culture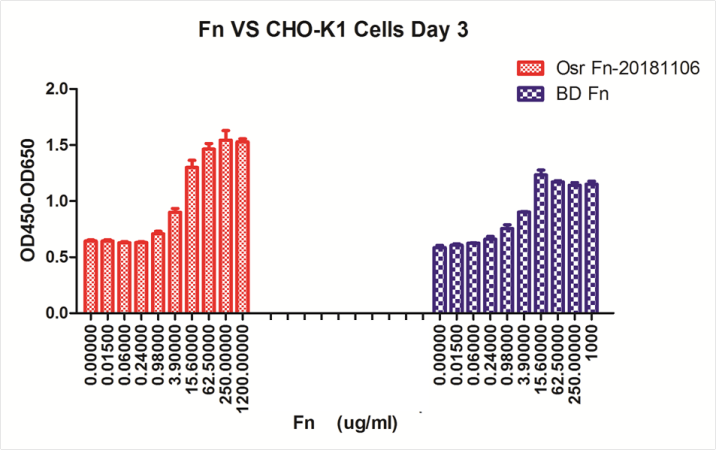 Compared with the commercial rat tail collagen and BD plasma derived Fn, the OsrhFN showed a higher cell viability and desity in CHO-K1 serum-free cell culture.
4. OsrhFN promote neuron cell growth

The morphology and immunofluorescent staining showed that OsrhFN was effective for keeping viability of neuron cells.
FOR RESEARCH, LABORATORY AND MANUFACTURE USE ONLY. NOT INTENDED FOR DIRECT USE ON HUMANS.