Recombinant Human Lysozyme(OsrhLYZ)
Lysozyme (LYZ) is a small protein with 14.7 kDa molecular weight, contains 130 amino acid. Lysozyme is a potent antimicrobial enzyme, by catalytic hydrolysis of their cell wall peptidoglycan, which contains sugars and amino acids. The sugar component consists of A-(1, 4)-linked N-acetylglucosamine and N-acetylmuramic acid and this bond is broken by lysozyme. This compromises the bacterial cell wall and causes the bacterium to burst under the high internal osmotic pressure. The recombinant human lysozyme (OsrhLYZ) was expressed in the patented rice endosperm, has been demonstrated that has the same physical and chemical with the native lysozyme.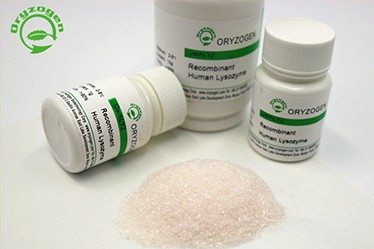 【Source】:Rice   Grain (Oryza Sativa)
【Catalog   Number】:HYC042R01
【Formulation】:Lyophilized power
【Package size】:1g, 10g
【Endotoxin】:Less than 0.5EU/ug
【Physical Appearance】:White or pink beige lyophilized powder 
【Purity】:More than 90% as determined by SDS-PAGE. 
online consultation
Storage and Handling:
Stored at temperatures 2~8℃ for at least 12 months. For the lyophilized OsrhLYZ, it is recommended to reconstitute in the Normal Saline or PBS with 1mg/ml concentration. The reconstituted OsrhLYZ liquid can be made in other aqueous buffer. Upon reconstitution OsrhLYZ should be stored below -20℃. Use as soon as possible after opening. Please avoid freeze-thaw cycles.
FOR RESEARCH, LABORATORY AND MANUFACTURE USE ONLY. NOT INTENDED FOR DIRECT USE ON HUMANS.