September 2, 2020, the kick-off meeting of " clinical trials phase I project of recombinant human lactoferrin and lysozyme oral liquid (Project No. HY1002) " was successfully held in the Affiliated Hospital of Guizhou Medical University, marking the official entry of this project into the clinical trial research stage. The recombinant human lactoferrin and lysozyme oral liquid, independently developed by Wuhan Healthgen Biotechnology Corp.(Healthgen Biotech) , is a class I new drug for the treatment of rotavirus diarrhea in children. It was approved by the National Medical Products Administration (NMPA) on May 12, 2020. ( Approval document number: CXSL2000028).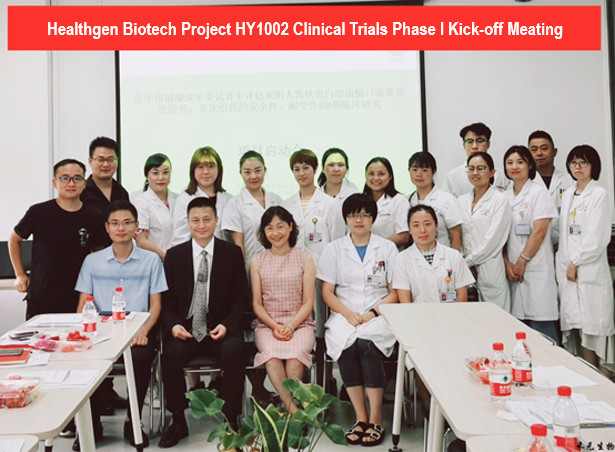 Infectious diarrhea has a high incidence and widespread prevalence in the world, and it is a serious health hazard to humans, especially children. According to the latest "Global Burden of Disease Study" (2015), there are 2.39 billion cases of diarrheal disease worldwide each year, and about 530,000 children under the age of 5 die, especially in low- and middle-income countries. Clinically, children's diarrhea caused by rotavirus is mainly supported by supportive treatment. Recombinant human lactoferrin and lysozyme oral liquid can not only kill the virus, but also effectively protect the intestinal mucosa, and it also has good pharmaceutical effect against infectious diarrhea caused by Escherichia coli (E. coli).
We look forward to Healthgen Biotech bringing high-quality solutions to children's rotavirus diarrhea!