September 28th, at the Asia Biopharmaceutical Innovation Summit (BIC2021) held in Shanghai, Wuhan Healthgen Biotechnology Corp., was invited as a guest to discuss the plant-derived recombinant human serum albumin independently developed based on the rice endosperm high expression platform (OryzHiExp). The sharing of safety, efficacy, and application data in serum-free cell culture has won widespread attention and recognition from the on-site customers.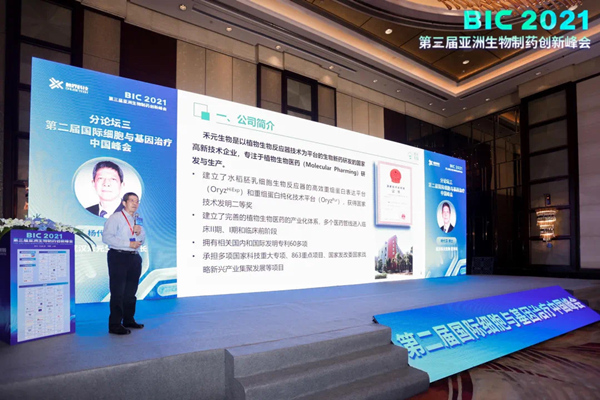 Human serum albumin is a raw material widely used in biopharmaceuticals R&D and production. It is an important additive for serum-free cell culture, and a protective agent for viruses and cells, etc. It is widely used in iPSC therapy, oncolytic viruses, AAV, CAR-T, gene and cell therapy, human vaccine, and ADC. However, human serum albumin has the risk of blood-source contamination, and supply assurance has always been the focus of the majority of colleagues. As the world's leading supplier of recombinant human serum albumin R&D and large-scale production, Healthgen Biotech's plant-derived recombinant human serum albumin perfectly solves the safety and supply problems and has gained the attention and consultation of many customers.
Ten years ago, people always thought that "Blood protein from rice" was a fantasy. Recombinant human serum albumin is also the ultimate challenge for many technology platforms in the biopharmaceutical industry because it has been unable to break through some technologies in the past 50 years, including purity limit, safety limit, scale-up limit and cost limit, and hard to succeed without any of them. Healthegn Biotech independently developed the rice endosperm high expression platform (OryzHiExp) for more than ten years, breaking the above four limits and successfully expressing plant-derived recombinant human serum albumin.
At present, with the advancement of the clinical trial of Project HY1001, it has experienced the up-and-coming surprise, the widespread doubts, and the amazement of gradual recognition. We are grateful for the trust and support of the majority of investors and customers, and we believe that its "stunning debut on the market" is just around the corner, so stay tuned!