Ascites is one of the common and serious complications in patients with decompensated cirrhosis and an important sign of the natural course of live cirrhosis. Once ascites occurs, the patient's 1-year mortality rate is about 15%, and the 5-year mortality rate is 44%-85%. Therefore, the prevention and treatment of ascites in cirrhosis is very important[1].
Many studies have shown that supplementing human serum albumin (HSA) is an important and effective means to prevent and treat liver cirrhosis and ascites. Such as the blockbuster ANSWER study published in the Lancet in 2018 showed that long-term HSA supplementation could improve the survival rate in patients with decompensated live cirrhosis, with a 38% reduction in the risk of death over 18 consecutive months[2].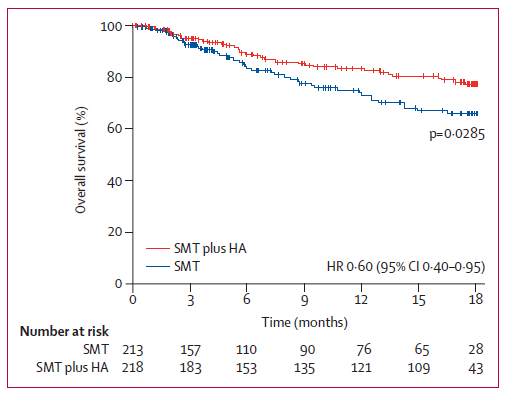 ​
Besides, multiple guidelines recommend human serum albumin for the treatment of ascites cirrhotic, firstly, the "A Quick Recommendation Guide for Pharmacological Management of Human Serum Albumin in Patients with Liver Cirrhosis" recommends human serum albumin in combination with diuretics for the treatment of ascites cirrhotic and for circulatory dysfunction after peritoneal puncture in adults. In addition, the "Guidelines for the Diagnosis and Treatment of Cirrhosis" and the "Guidelines for the Diagnosis Treatment of Cirrhotic Ascites and Related Complications" both recommend human serum albumin supplementation for the treatment of ascites cirrhotic and the prevention of circulatory dysfunction after massive release of ascites.
Currently, the clinically used human serum albumin (HSA) is mainly derived from donated blood, which makes HSA to be a scarce resource due to the source restrictions of blood donation. Usually, it takes about 400ml of whole blood to purify 10g of human serum albumin, which means blood donors need to donate about 10% of their body blood. According to the latest national census data released by the National Bureau of Statistics of China, China's population is 1.41178 billion, which is still the world's most populous country, but the blood donation rate is about 11.2 per thousand people, accounting for about 1% of the country's total population. Therefore, the use of HSA is facing the problems of huge demand with long-term short supply and high prices for a long time.All in all, the traditional production method of human serum albumin can no longer meet the market demand!
Secondly, the use of blood-derived HSA may bring the risk of transfusion-transmitted diseases. The raw plasma has been screened for relevant pathogens, and virus removal and inactivation measures have been incorporated into the production process. While, there is still a potential risk of transmission of certain known and unknown pathogens due to the existence of false negative test results, or the lack of knowledge or effective means to detect certain pathogenic factors or emerging infectious agents. Moreover, it will also increase the inspection links and costs in the production process.
Nowadays, rice-derived recombinant human serum albumin(OsrHSA), independently produced by Wuhan Healthgen Biotechnology Corp.( hereinafter referred to as Healthgen Biotech) with its core patent rice endosperm specific expression platform(OryzHiExp), will break through the dilemma of the clinical use of human serum albumin above-mentioned.
Why we express HSA from rice?
As we know, rice is a staple food in China and has been consumed for thousands of years. Its biological background is clear and there are no reports of animal pathogenic bacteria and viruses invading plant cells, and plant viruses co-infecting with humans, thus using rice to express recombinant proteins completely eliminates contamination from animal or human pathogenic bacteria or viruses, and has better safety.
The production process of rice endosperm cell expression system is as follows.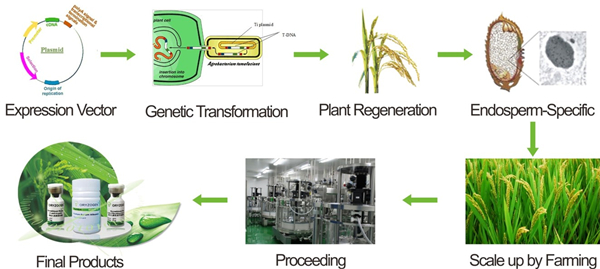 In order to achieve mass production of human albumin from a wider range of sources, the world's first "blood protein from rice" biotechnology - "plant-derived recombinant human serum albumin", approved by the U.S. FDA (U.S. Food and Drug Administration) to enter clinical research. This is the first blood replacement product approved for clinical use in the U.S. The "blood protein from rice" technology can extract human serum albumin from the cultivated rice through genetic engineered technology. At present, the world's highest yield level of about 10 grams of human serum albumin can be achieved from 1 kilogram of rice.
Plant-derived recombinant human serum albumin(OsrHSA) has many advantages, such as:
1. Safety: no viral or animal contamination
2. Stable supply: enlarge rice planting can meet market demand
3. Environmental friendly: all proteins are derived from rice
4. High expression: 10 times higher than other platform
Now, plant-derived recombinant human serum albumin(OsrHSA) has completed Phase I clinical trial in the U.S., and is conducting Phase II national multi-center clinical trial. Once the OsrHSA is on the market, the scarce "gold life-saving drug" can be greatly relieved. Finally, let us all look forward to the era of plant-derived recombinant Human Serum Albumin!
References:
[1]徐小元,等,庄辉.肝硬化腹水及相关并发症的诊疗指南[J].临床肝胆病杂志,2017,33(10):1847-1863.
[2]Paolo Caraceni, Oliviero Riggio, Paolo Angeli, et al. Long-term albumin administration in decompensated cirrhosis (ANSWER): an open-label randomised trial.Lancet 2018; 391: 2417-2429.